Toke Makinwa's Style Game Soars with Striking Gold-Blonde Wig.
Nigeria's media personality, Toke Makinwa, never fails to impress with her impeccable fashion choices. Her social media posts are a testament to her ability to curate looks that are not only fashion-forward but also uniquely reflective of her personality. In her latest Instagram post, Makinwa confidently showcases a stunning gold-blonde hairstyle that has everyone swooning.
The eye-catching golden wave is not just a dye job; it's a perfectly installed lace front wig that elevates Makinwa's overall look to a whole new level of glitz and glam. The blonde hair complements her outfit effortlessly, creating a striking contrast that showcases her bold taste in style. In the caption, she teases her "Blonde Ambition," leaving us curious and excited for the aesthetic pleasure she has in store with this captivating new hairstyle. It's no wonder many of us are already considering booking a salon appointment to rock this fabulous hairdo for a weekend outing with friends or to pin it to our Pinterest board for future inspiration. Toke Makinwa continues to be a style inspiration, and we can't wait to see what other fabulous looks she has in store for us.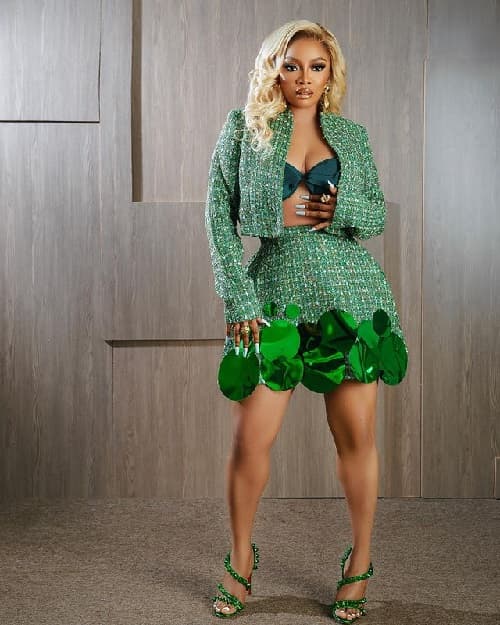 Toke Makinwa's outfit highlights a chic and fashionable matching set, featuring a crop tweed jacket and flare mini skirt. The color choice beautifully complements her skin tone, creating an effortlessly stylish appearance. She elevates the monochrome look with matching string sandals and elegant gold drop-down earrings that perfectly complement her stunning gold-blonde wig.
Embracing the latest trends, Makinwa tastefully incorporates the exposed bra trend by layering a coordinated deep green bralette under the luxe jacket. Her sultry smokey eye makeup adds depth and intensity to her face, completing the overall glamorous look.
Makinwa strikes a perfect balance between business and pleasure, combining green hues with gold glamour to create a captivating and sophisticated ensemble. If you're inspired by her style, you can achieve a similar look with Jbronze Hair & Lashes, a beauty brand known for their customizable wig services. Toke Makinwa once again proves herself as a style icon, effortlessly showcasing elegance and flair in this fabulous outfit.