Radiating joy and love, the renowned gospel artist, Mercy Chinwo, stole the spotlight as she elegantly revealed her baby bump in her latest music video. A heartfelt congratulations go out to Mercy Chinwo and her husband, Pastor Blessed Uzochikwa, as they embrace the arrival of their first child.
In a joint social media announcement, the couple joyfully shared this beautiful milestone with their fans and followers, gracing the screens with the captivating music video for her latest track, 'You Do This One'. With sheer elegance, Mercy Chinwo exudes beauty and excitement, marking this moment as a truly special one for their growing family.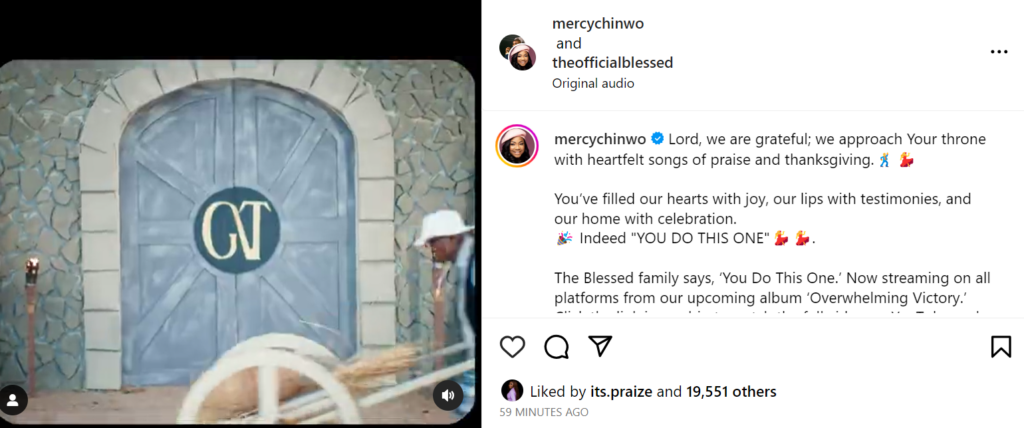 Some time ago, Pastor Blessed expressed his unwavering affection for Mercy Chinwo through a heartfelt social media post, commemorating her latest project.
Today, Friday, April 14, marked the release of Mercy Chinwo's highly anticipated EP, Elevated, following her departure from her former record label, Eezee Concept.
On his Instagram page, Pastor Blessed shared some candid behind-the-scenes snapshots from the project, reminiscing about the multiple roles he took on to ensure its success.
Accompanying the photos, he emphasized that when a man deeply loves a woman, he embodies everything to her and endeavors to provide her with the finest.
"When a man loves a woman, he becomes everything to her and ensures she gets the best of everything. Baby @mercychinwo you can call me your priest, your lover, your husband, your Producer etc Or maybe Director PFresh 😁😁😁😁 Can't wait for you all to see this masterpiece Wonder Video." He conveyed with a touch of humor.