WhatsApp offers a multitude of interesting tips and tricks that can significantly enhance your messaging experience. WhatsApp has become an integral part of modern communication, and with the recent introduction of Channels, the platform is taking a progressive step.
Similar to Telegram Channels, WhatsApp Channels enable you to stay informed about your preferred content creators, celebrities, businesses, and more. This article aims to familiarize you with WhatsApp Channels and offer practical advice on maximizing their potential. Let's delve into it!
What Are Whatsapp Channels?
If you're familiar with Telegram, you'll find WhatsApp's take on Channels quite similar. WhatsApp has introduced a Channels feature within its messaging app. These WhatsApp Channels serve as one-way communication tools, allowing administrators to broadcast messages to a large number of subscribers or followers simultaneously. This feature facilitates the rapid dissemination of information to a wide audience, with followers having the ability to react to messages but not send their own.
Back in June, WhatsApp had announced the impending arrival of "Channels" on its platform, and recently, this feature has become available worldwide. Now, whether you're a content creator or a regular user, you can fully utilize the WhatsApp Channels feature. The capability to create Channels is gradually rolling out, although it appears to be accessible to a select group of users for now.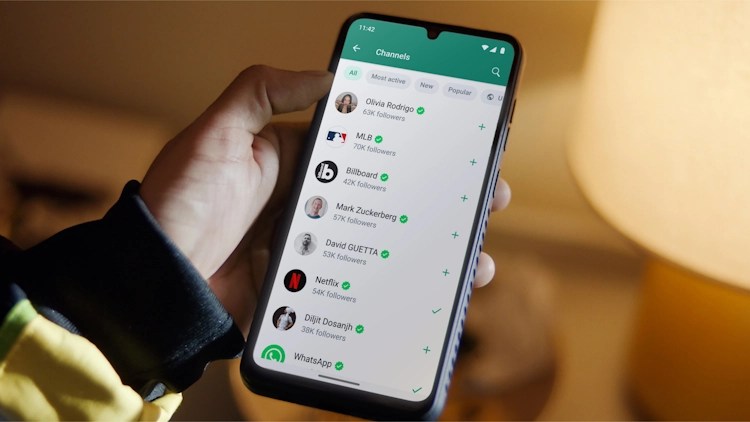 Introducing WhatsApp's New Updates Feature
If you've been a regular WhatsApp user, you might have noticed a change recently – the familiar "Status" tab is no more. Instead, it has been replaced by an "Updates" tab. Upon entering the Updates tab, you'll find the Status section at the top, but just below that is something new and intriguing: the Channels section. It's worth noting that this Channels feature is distinct from the WhatsApp Communities feature introduced earlier this year.
Within the Channels section, you can conveniently access all the Channels you've chosen to follow. It's important to mention that in order to receive updates from a channel, you need to both follow it and enable notifications. So, you might be wondering: how do you join, create, or follow a Channel on WhatsApp? And what about unfollowing or deleting a Channel? We've got all the answers in this guide, so keep reading.
How to Join a Channel on WhatsApp If you've noticed the Channels feature on WhatsApp, you're already on the right track, as joining a channel is a straightforward process. There are two methods to join a WhatsApp Channel, and we'll walk you through them.
Method 1: Joining Channels via the Updates Tab
Launch WhatsApp and navigate to the Updates tab.
In this tab, you'll spot an option labeled "Find Channels" at the bottom of your screen. Simply tap on it.
A list of available channels for following on WhatsApp will appear. You can either tap the plus icon next to each channel or use the search icon located in the top right corner of your screen to manually search for the channel you wish to follow.
This method ensures that you're well on your way to enjoying the new Channels feature on WhatsApp. Stay tuned for more insights and tips on making the most of it.
That's about all there is to it, and your followed creators or favorite celebrities will now be readily available in the Channels tab. To get the updates you desire, simply tap on the Channel of your choice.
If you happen to not find a WhatsApp Channel that piques your interest within your region, don't fret. WhatsApp has implemented a handy filtering system that offers various options. You can not only filter channels based on their activity levels – Most active, Popular, or New – but you can also filter them based on their region. This way, you can discover and follow Channels that align with your preferences and interests.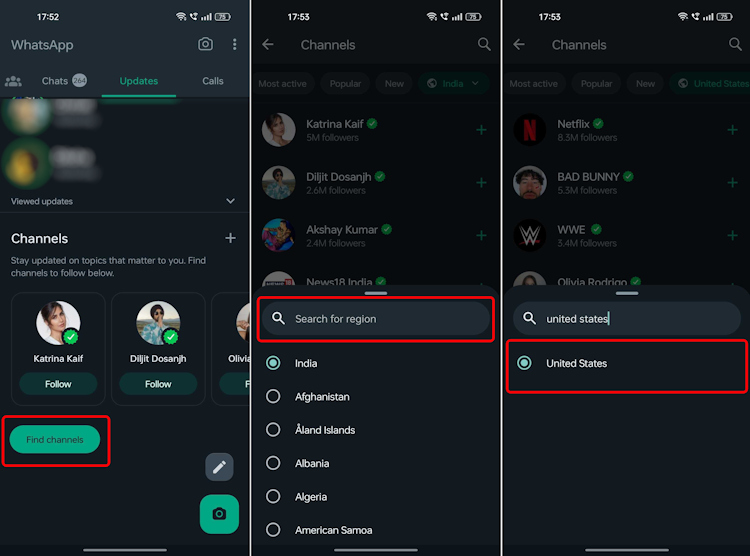 Method 2: Joining a WhatsApp Channel using a Link
Another hassle-free method to join a WhatsApp Channel is through a channel link shared by someone. When a user shares a channel link with you, just tap on the "View channel" button within the message.
Once you do that, the Channel will open, and you'll find a "Follow" button at the top right corner. Simply tap on it, and voila! You've successfully used a channel link to join a WhatsApp Channel. It's as straightforward as it gets!
How to Stop Following a WhatsApp Channel
If you want to cease receiving updates from a particular source and remove a WhatsApp Channel from your Updates feed, you'll need to unfollow it. Here's a simple guide on how to do that:
Open the Updates section within your WhatsApp app.
In this section, you'll find a list of the channels you've followed and added. Choose the one you want to unfollow.
Look towards the top right corner of your screen, where you'll spot a vertical three-dot icon. Tap on it and select "Unfollow."
A confirmation pop-up window will appear. Simply tap on the "Unfollow" button once more, and you've successfully removed or unfollowed a WhatsApp Channel. It's as easy as that!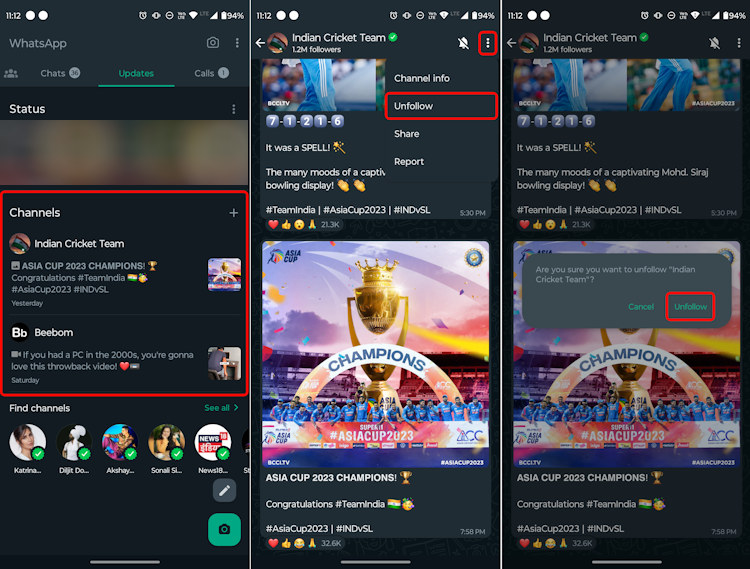 Unfollowing Multiple WhatsApp Channels at Once
When you've amassed quite a few WhatsApp Channels and going through each one individually to unfollow seems like a daunting task, there's a more efficient way to do it. Follow these steps to unfollow multiple WhatsApp Channels in one fell swoop:
Within WhatsApp, navigate to the Updates section and locate the "See all" button next to the "Find channels" tab.
A comprehensive list of Channels will be displayed. You can either manually search for your added Channels or locate them in the list.
Next to each of these Channels, you'll find a tick icon. Simply tap on it.
A small confirmation window will appear. Click on "Unfollow" to complete the process.
With this method, you can efficiently unfollow multiple WhatsApp Channels without the hassle of doing it one by one. It's a time-saving solution for those with a substantial number of channels to manage.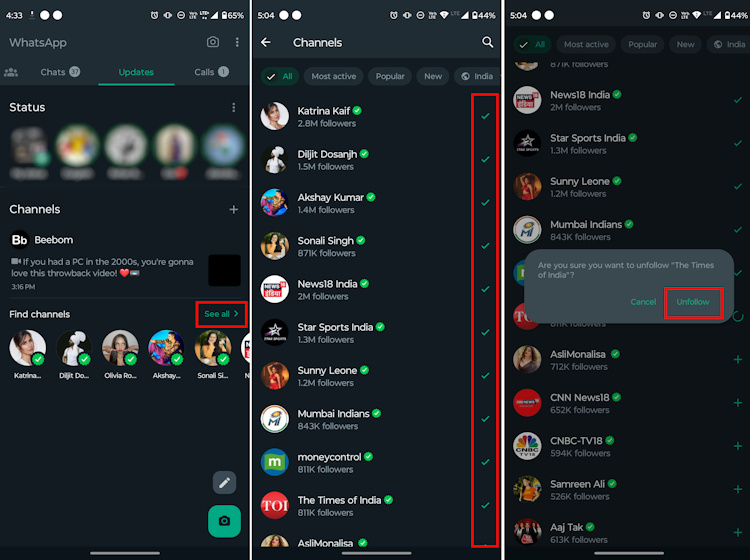 Creating and Deleting WhatsApp Channels
In the past, the privilege to create WhatsApp Channels was limited to a select few, including individuals and organizations. However, WhatsApp has expanded this capability to a wider audience. The process is uncomplicated, and soon, you can become the administrator of your own WhatsApp Channel.
Furthermore, the process of deleting a channel and sharing a WhatsApp Channel is equally straightforward. Follow our step-by-step guide on creating a WhatsApp Channel to discover all the details.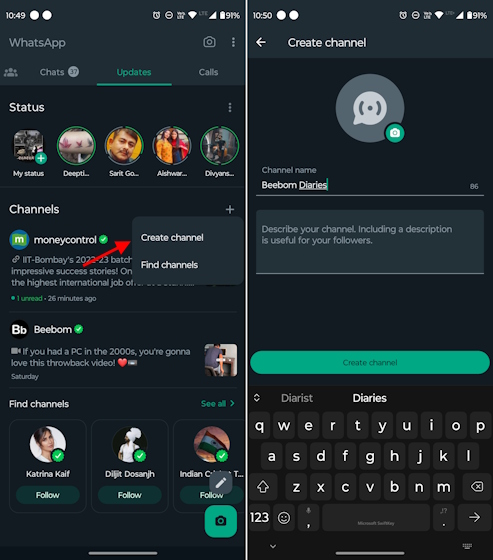 How to Easily Share WhatsApp Channels with Others
Sharing WhatsApp Channels can be quite useful when you want to introduce people to fantastic Channels, such as Beebom's offerings. For instance, when I didn't have the Channels update initially, I asked a colleague who had it to send me a WhatsApp Channel link. When I tapped on the link, I discovered that the update hadn't rolled out to my device yet (I'll delve into this below).
Sharing Channels enables you to invite your friends to specific WhatsApp Channels they're interested in, making the process more convenient for them. So, here's a simple guide on how you can effortlessly share WhatsApp Channels:
Head to the WhatsApp Channels section and open the page of the Channel you want to share.
In this section, tap the vertical three-dot icon at the top right corner and select "Channel info" from the menu.
You'll find the option to Forward or Share the particular WhatsApp Channel with your friends and family.
While the "Forward" option allows you to share the Channel link directly within WhatsApp, the "Share" button permits you to share it with anyone, using your preferred messaging app. With the "Share" button, you can also copy the Channel link and share it anywhere, with anyone you choose. It's a seamless way to introduce others to the Channels you love.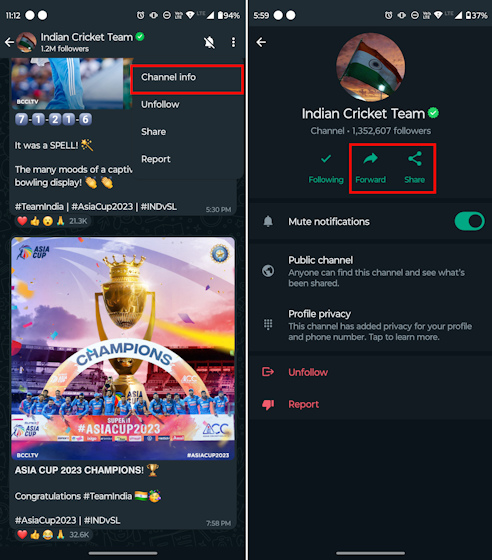 Why Can't I Access WhatsApp Channels Yet?
As mentioned earlier, I used a shared WhatsApp Channel link to determine whether I had received the update or not. You can give this method a try, and don't be concerned if you encounter the message "Channels isn't available for you yet."
WhatsApp Channels is currently rolling out gradually, and it may take some time before the feature becomes accessible on your device. To check, keep an eye out for the Updates section within your WhatsApp app. If you're facing issues, here are a couple of common solutions you can attempt:
Update WhatsApp: Visit the Google Play Store or iOS App Store to see if there are any pending updates for your WhatsApp app. If there are, make sure to update your WhatsApp.
Clear WhatsApp Cache: If the Updates tab is still not visible on your Android device, consider clearing the WhatsApp app cache. Android users can also try force-restarting WhatsApp. On iOS, you might want to try offloading and reinstalling the messaging app.
Reinstall WhatsApp: Another option is to uninstall and then reinstall WhatsApp to resolve the issue.
Restart Your Device: Sometimes, the problem might not be with WhatsApp itself but could be a device glitch. It's possible that your device hasn't registered the update properly. A simple restart of your device can often fix such issues.
If none of these methods yield results, it's likely that you haven't received the update yet. Since this appears to be a server-side update, it will take time to reach all users. Be patient; you will receive the update in due course.
In recent times, WhatsApp has introduced several useful features, including the ability to edit sent messages, send texts to unsaved numbers, post voice notes on your WhatsApp status, and share video messages. However, the Channels update represents a significant leap forward, bringing WhatsApp closer to competing with platforms like Telegram. We're interested to hear your thoughts on this new Channels update, so feel free to share your opinions in the comments below!