Adding a touch of sparkle to your hair has never been more stylish than with glitter braids. Whether you're prepping for a festival or a social event, or just want to elevate your everyday look, glitter braids offer a unique twist on classic box braids, resulting in a radiant and dazzling finish.
Like traditional braiding methods, glitter braids can be customized into knotless styles or tailored to your preferred hair design. However, the core technique of braiding remains mostly unchanged.
Glitter braids are trendy hairstyles that seamlessly incorporate shimmer, achieved through glitters or vibrant colors, into the timeless braided style. They create that coveted "shiny effect." What makes glitter braids truly special is their versatility, effortlessly complementing your creative hairstyle preferences. In the following sections, you'll explore a collection of glitter braid hairstyle ideas that are sure to inspire excitement and admiration.
Baby Glitter Braids
The term "baby braids" is fitting for a reason – it's all about the style and the blue hue. Blue braids have always been a fantastic choice, so why not take this bold look to the next level by adding silver tinsels for an extra dose of playful brilliance?
Space Buns Glitter Braids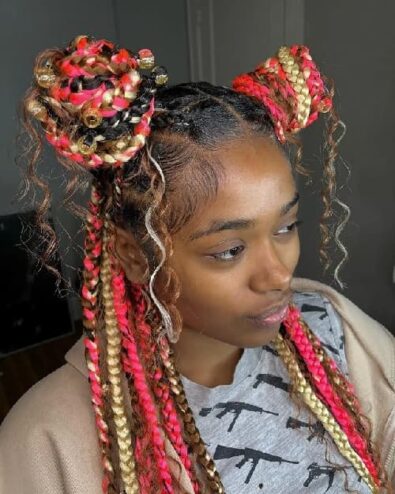 Get creative with your hair by creating two space buns and then braiding a small section of hair from each bun. Add some shimmering tinsels and colorful accessories to achieve a fun and celestial look that's sure to turn heads.
Purple Glitter Braids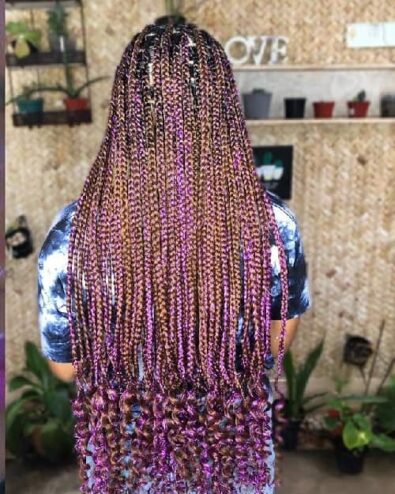 If you were to ask us, we'd definitely recommend trying out purple glitter box braids! Consider using tinsel that matches the color of the extensions for a stunning three-dimensional effect.
Multi-Color Glitter Braids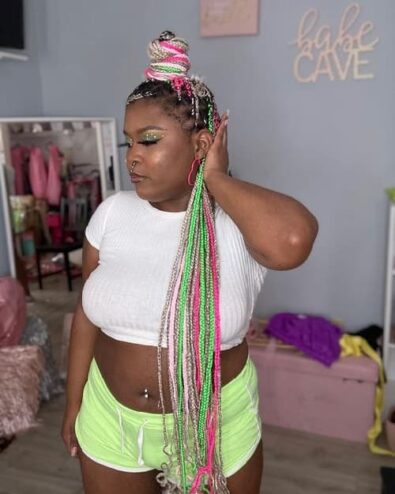 "Are you having a tough time choosing a hair color? How about embracing a variety of hues and flaunting a gorgeous multicolor glitter braid hairstyle that's sure to make heads turn on Instagram?"
Glitter Braids With Multi-colored Ends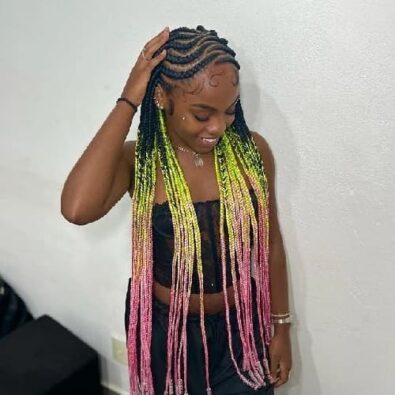 "When you're unsure, why not have some fun with glittery braids on the ends of your hair? Mix in different colors to make that sparkle pop. Go ahead, make a statement that'll leave a lasting impression!"