Novak Djokovic Claims Record 23rd Grand Slam Title at French Open
In an impressive display, Novak Djokovic secured his 23rd Grand Slam singles title at the French Open on Sunday, solidifying his position as the pinnacle of men's tennis. With a resounding 7-6(1) 6-3 7-5 victory over Casper Ruud, the fourth seed, the 36-year-old Serbian now stands alone atop the sport. Djokovic had previously matched Rafa Nadal's 22 Grand Slam titles by winning the Australian Open earlier this year.
However, his latest triumph catapulted him ahead of the injured Nadal, the King of Clay, on his home turf. This marks Djokovic's third Roland Garros victory, having previously triumphed in 2016 and 2021.
The match unfolded on Court Philippe Chatrier, a historic occasion where Djokovic extended his winning streak in Grand Slam tournaments to 21, an unmatched feat. He becomes the only male player to have secured each of the four major titles – Australian Open, French Open, Wimbledon, and U.S. Open – at least three times. "A Grand Slam is an incredible achievement," stated Djokovic, who now shares the record of 23 major titles with women's tennis icon Serena Williams, trailing just one behind Margaret Court's 24 titles.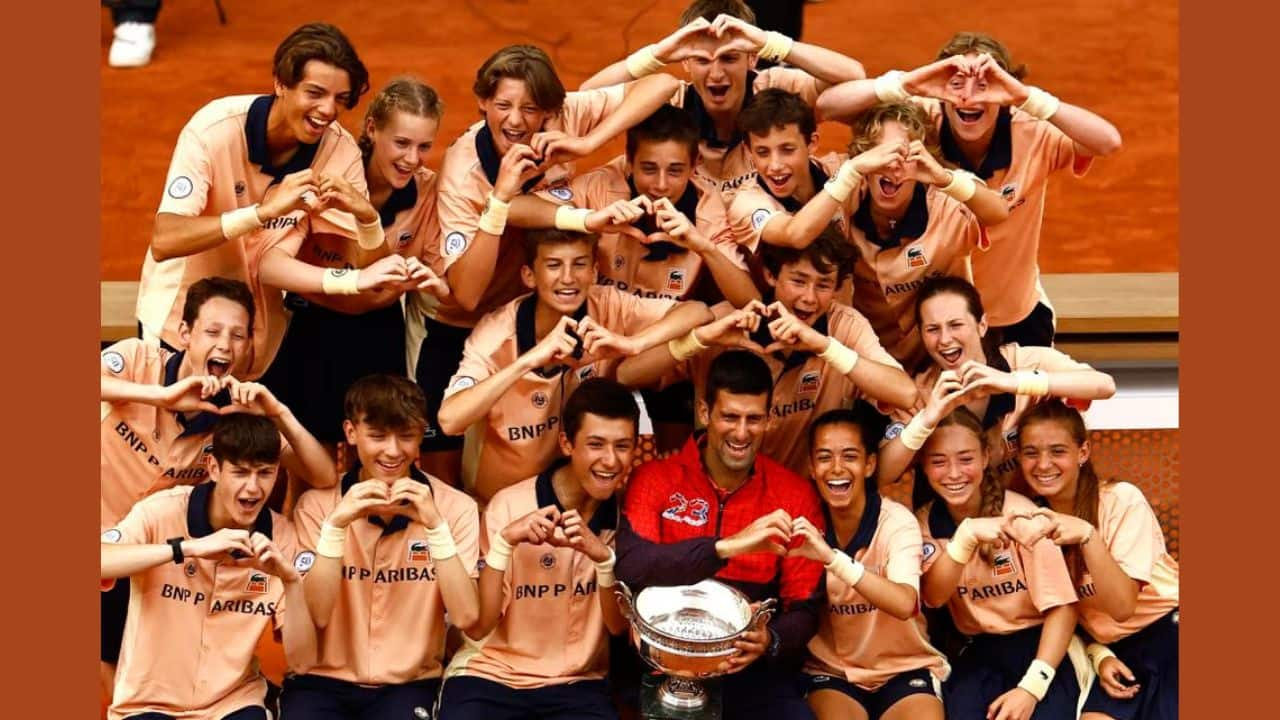 "These four tournaments are the pinnacle of our sport. Every player dreams of being on this stage and lifting the trophy at least once in their career. I consider myself beyond fortunate to have won it 23 times. It's an indescribable feeling." Djokovic's latest conquest in Paris, statistically settling the Greatest of All Time (GOAT) debate, unfolded in his seventh final appearance at the venue. He entered the match with a 2-4 win-loss record, emphasizing the significance of his victory.
"Winning the 23rd Grand Slam here in Paris is not a coincidence. This tournament has always been the toughest for me to conquer throughout my career. It holds a lot of emotions, both on and off the court," he reflected. In addition to surpassing Nadal, Djokovic also became the oldest champion in Paris. Over the course of a demanding fortnight, he weathered a heated political controversy following his comments on Kosovo and overcame the challenge of an ailing top seed, Carlos Alcaraz, in the semifinals.
Congratulatory messages poured in, including from 14-time Roland Garros champion Nadal, who tweeted, "Many congrats on this amazing achievement! The number 23 was unthinkable just a few years back, and you made it! Enjoy it with your family and team." Despite a shaky start, Djokovic regained his composure after dropping his opening service game to Ruud. The fourth seed, aiming for his first victory against Djokovic after four previous attempts, initially took a commanding 4-1 lead.
However, Djokovic fought back, eventually leveling the set at 4-4. The match saw a crowd filled with celebrities, including soccer superstars Kylian Mbappe and Zlatan Ibrahimovic, who cheered when Ruud volleyed home a winner after an impressive 'tweener' shot. Djokovic's vintage form became evident as he broke early in the second set, gradually tightening his grip on the match. Ruud's hopes of claiming his maiden major title faded quickly as Djokovic secured a two-set advantage.
Despite moments of tension, including a dispute with the umpire over quick starts of the clock, Djokovic maintained his composure. He forced a tiebreak in the first set, which he dominated, and showcased his exceptional skills throughout the match.