Sir Elton John Concludes Final Tour with Poignant Performance.
In a bittersweet moment, Sir Elton John completed his farewell tour with an unforgettable show in Stockholm, Sweden. The "Farewell Yellow Brick Road" tour, which commenced in September 2018, faced interruptions due to the COVID-19 pandemic and a hip injury John suffered in 2021. However, after a hiatus of nearly two years, the iconic singer returned to the stage to give his fans the farewell they had been eagerly anticipating.
Addressing the audience during Saturday's performance, John expressed the significance of the evening, remarking, "This is a very poignant evening because it's the last show of the tour. This is the 330th show we've done in 663 days, including Glastonbury. That's pretty amazing." The "Tiny Dancer" singer's words reflected the incredible journey he had embarked on, captivating audiences across the globe.
In an interview with "CBS Mornings" in January 2022, just before resuming his tour, John shared his excitement about spending quality time with his family after its conclusion. Having been touring since he was 17 years old, he acknowledged the remarkable life he has led and the immense joy he experienced on stage. However, at the age of 76, he felt it was time to embrace a new chapter and explore different endeavors.
"I've had the most incredible life. I've been so lucky, and I've loved every single minute of it," John expressed. "But I've had enough of that applause, and I really want to do something different with the rest of my life."
As Sir Elton John bids farewell to tour, his final show marked the end of an era while leaving an indelible legacy in the world of music. Fans around the world will forever cherish the memories created during his illustrious career, and they eagerly await the next chapter in his extraordinary journey.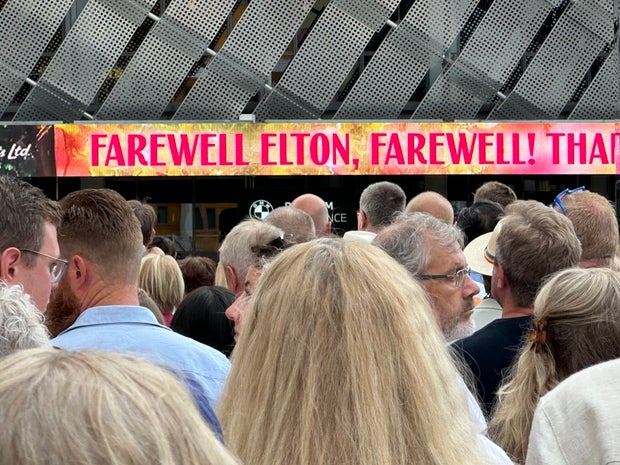 David Furnish, the husband of Sir Elton John, took to Instagram to express his excitement for the next chapter in their lives as they bid farewell to tour. Furnish shared a heartfelt message, stating, "Finally off the road and into the sunset. So excited for the next chapter together."
The couple shares the joy of parenthood, with two sons named Zachary and Elijah, who have undoubtedly been a source of inspiration and happiness throughout their journey.
In a touching tribute, Coldplay's Chris Martin joined John's final show through a live stream, extending his wishes for a joyful retirement to the legendary "Rocket Man" singer. Martin expressed deep gratitude for John's contributions, not only to the music industry but also to important causes like the AIDS Foundation. He acknowledged John's kindness towards others, his support for the LGBTQ community, his impact on fashion and eyewear, as well as his embodiment of sexiness, love, and even dressing gowns!
The collaboration between these renowned musicians and the admiration expressed by Martin serves as a testament to the profound impact that Sir Elton John has had on the world, both through his music and his philanthropic endeavors. As he embarks on this new phase of life, he leaves behind a lasting legacy of compassion, creativity, and an unwavering commitment to making a difference.